Grow Your Business With Social Media
Pricing Starts At $650 Per Month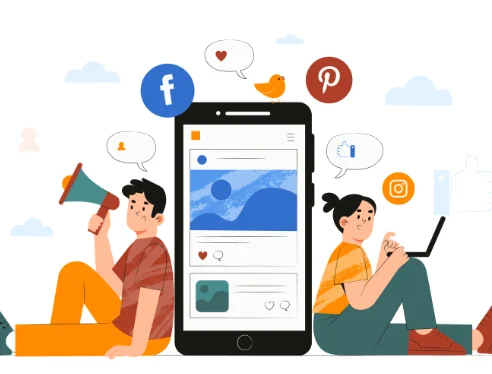 SMO Social Media Management
At Digital Traffik Agency, our Social Media Plans are ideal for businesses getting started with social media marketing. Primary plans include account setup, social monitoring, post creation & scheduling across a variety of social media sites; including Facebook, Twitter, LinkedIn in and Instagram.
To be successful on social media you need a continuous posting stream of relevant content to engage with customers across all social channels.
We make it possible for businesses to generate leads, schedule ready-to-publish content and collaborate all from one place. We make managing social media simple.
Affordable SMO Services Offered by Your Denver, CO Based
Digital Marketing Agency
Social media is a powerful tool in any successful marketing strategy. As a full service social media agency based in Denver, Colorado, the team at Digital Traffik Agency offers a wide range of SMO services designed to have your business going viral. We tailor our social media marketing services to cater to your specific needs, offering you the power to gain exposure to national markets across the United States.
As an experienced SMO company based in Colorado, the team at Digital Traffik Agency are experts in social media optimization, providing high quality, affordable SMO services designed to make your brand stand out. We custom build our social media optimization strategies based on the unique needs of your business, and target all major social media platforms in order to ensure that your brand remains visible.
Features and Benefits of Social Medial for Business with
Digital Traffik Agency
Social Media Auditing: We perform a comprehensive evaluation to determine how well your current social media strategy is performing, using it as a basis for your new campaign.
Brand Awareness: We create the ultimate branding experience, ensuring that your message is delivered in a clear and cohesive way across all major social media platforms.
Social Sponsoring: Word of mouth should be a key aspect of your digital marketing strategy, so we work hard to build your network so that you can increase the value of your campaign.
Generate Online Traffic: Once your campaign is fully developed, we implement it in a way that drives online traffic and lead generation. Have you ever wanted your social media to go viral? Now, it can.
Higher Conversion Rates: It has been shown time and time again that engagement with your customers drives conversion. With a savvy social media campaign, you can watch as your sales increase.
Our Pricing
As your Denver, CO based SMO agency, Digital Traffik Agency provides a range of tailored options to drive success for your social media campaign. We feature packages starting as low as $650 per month. We are budget friendly and understand that every business has their own advertising spend. At Digital Traffik Agency, we value your business and will customize a plan that fits within your budget. To find out more, contact our team today at (720) 221-4657.
Frequently Asked
Questions
Why is a social media agency important?
The value of any great social media campaign is dependent on the finer details. While your current strategy may be generating some success, working with an experienced digital marketing agency such as Digital Traffik Agency can help you gain reach across the United States.
What services do social media agencies provide?
Social media agencies provide a wide range of services that generate success. We start by developing a strategy that will help you reach your objectives, then design a campaign around your goals. We then implement your campaign across all major social media platforms, offering careful optimization at every step of the process. At Digital Traffik Agency, our Colorado based campaigns have the power to generate success.
Lets Start With


30 Minutes Strategy Call