Creative Marketing and Consulting Services
Empower Your Brand's Creativity: Strategic Marketing & Consulting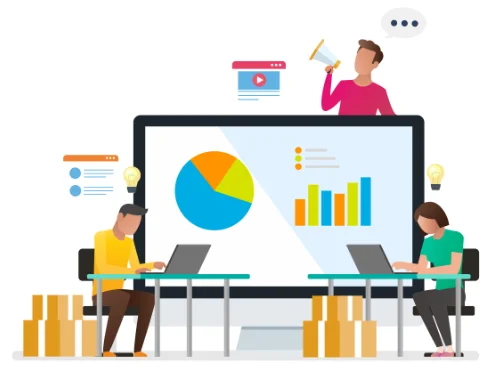 Creative Marketing Solutions with Our Digital Marketing Agency
At Digital Traffik Agency, we are a leading digital marketing agency providing innovative, effective marketing solutions for businesses of all sizes. Our team of experts is dedicated to helping our clients achieve their marketing goals and maximize their online presence.
Marketing Consulting Services Tailored to Your Needs
Our marketing consulting services cater to the unique needs of each client. We work closely with you to understand your business objectives, target audience, and industry landscape. With our in-depth market research and analysis, we develop customized strategies to help you stay ahead of the competition.
Unleashing Creative Marketing Solutions
We believe in the power of creativity to drive results. Our creative marketing solutions are crafted to captivate your audience and leave a lasting impression. From compelling content creation to visually stunning designs, we ensure your brand stands out.
Email Marketing Campaigns that Convert
Email marketing is a powerful tool for engaging your audience and driving conversions. Our team creates personalized, targeted email campaigns that deliver the right message to the right audience at the appropriate time. With our expertise, we help you build a strong email marketing strategy that generates measurable results.
Developing Effective Marketing Strategies
Successful marketing strategy development requires careful planning and analysis. Our team employs a data-driven approach to identify your target market, assess competition, and outline clear objectives. We develop a comprehensive marketing strategy that aligns with your business goals and helps you achieve long-term success.
Your Creative Advertising Agency
Creative strategy is crucial in advertising. It helps your brand break through the clutter and connect with your audience emotionally. Our team combines strategic thinking with innovative ideas to create impactful advertising campaigns that drive brand awareness, increase engagement, and boost conversions.
Frequently Asked
Questions
What are the aspects of creative marketing?
Creative marketing involves unique storytelling, compelling visuals, innovative campaigns, and personalized experiences to engage and inspire your audience.
How do you develop creative marketing strategies?
We develop creative marketing strategies by conducting market research, understanding your target audience, analyzing industry trends, and brainstorming innovative ideas that align with your brand's goals.
Why is creative strategy important in advertising?
Creative strategy is vital in advertising as it helps your brand stand out, grab attention, and evoke emotions in your target audience. It creates a memorable brand experience and drives customer engagement, leading to better campaign performance.
Lets Start With


30 Minutes Strategy Call